worship
Join us each Sunday morning at 9:00am. Worship is a chance for us to MEET together and be in the presence of the One who always comes down to us – to dwell with us in the midst of our sorrows, joys, fears, guilt, frustrations, and celebrations. As we worship we PRAY – and hear anew God's Word and gain strength for our time away from worship. We leave the sanctuary filled with the blessed assurance that we are loved unconditionally. It is this LOVE that we take with us from this place and into the world as we seek to do God's will among God's people, mirroring our Creator's compassion and grace.

No matter where you are on your faith journey, we invite you to explore a life of faith with us. If you are new to Bethel, welcome. If you've been here awhile – we hope you feel welcome too. All are invited to come as you are to worship a God who meets us where we are and journeys with us in love and grace.
---
What to expect on a Sunday morning
Come as you are to our 9:00am worship gathering! Our gathering is one of the most casual ones you'll find. There will be singing, praying, readings from the Bible, a message from the pastor, and Holy Communion. We follow a traditional Lutheran liturgical format, but use a variety of musical styles so some Sundays might feel traditional and others contemporary.

Your children are welcome no matter how small, so please bring them along. Their joyful noises help us celebrate our life together as the family of God. Our worship would be incomplete without their voices and smiles!
---
---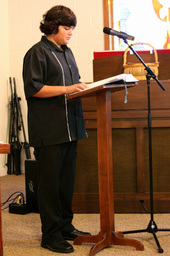 How you can get help out
Reader Share the day's Bible reading during worship each Sunday. Readings are sent out ahead of time so readers can practice. Readers of all ages are encouraged to participate. Contact Lisa Herlocker or Barbara Morris to volunteer.


Worship Assistant Help the pastor as he leads the congregation in worship. Some training is involved, but all who are interest are encouraged to find out more by speaking with Lisa Herlocker.


Altar Care Volunteers rotate weeks and share in this ministry of the visual arts helping to prepare the worship space. Ask Lisa Herlocker to introduce you to the ministry team leader if you'd like to help out.


Technology Assistant Are you a techie? Then this may be the spot for you. Help is needed each week to monitor the sanctuary sound equipment during worship. Talk with the Tech Assistant the next time you're at worship.
---
---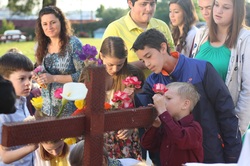 Seasonal Worship Opportunities
During the seasons of Advent and Lent we gather at 7:00pm on Wednesday evenings for a brief quiet time of worship.

On Christmas Eve, Christmas Day, and Easter Sunday we celebrate with special festival worship gatherings.

Check our calendar for more details!
---