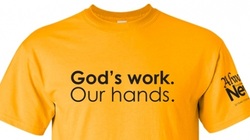 Put on your gold shirt and get ready to serve our local community on September 6th and 7th!
•Saturday, September 6th meet at the Salvation Army Buildings at 100 Lincoln St in Roseville from 9:00-3:00 for a day of painting, cleaning, and organizing.
•Sunday, September 7th meet at the Place Food Bank at 8284 Industrial Avenue in Roseville for their
Family Volunteer Day.
In between we'll be having our annual Camp Bethel event including BBQ, games, sleeping in tents, pancake breakfast and worship! New this year, we'll be taking a congregational photo after worship!